Welcome To Chilton County News in Clanton, Alabama, located in the center of the State of Alabama in the Heart Of Dixie.
This web site contains local Peach Country information, news and happenings about the people of
Clanton, Jemison, Thorsby, Maplesville, Isabella, Verbena and Cooper in Chilton County, Alabama.
"Chilton County's Best-Read Weekly Community Newspaper"
RECENT NEWS FROM
AROUND CHILTON COUNTY!
The intersection of Temple Road, Thrash Road and Country Club Drive in Clanton is now a four-way stop. Workers have completed putting up new stop signs, with solar powered blinking red lights, at this location.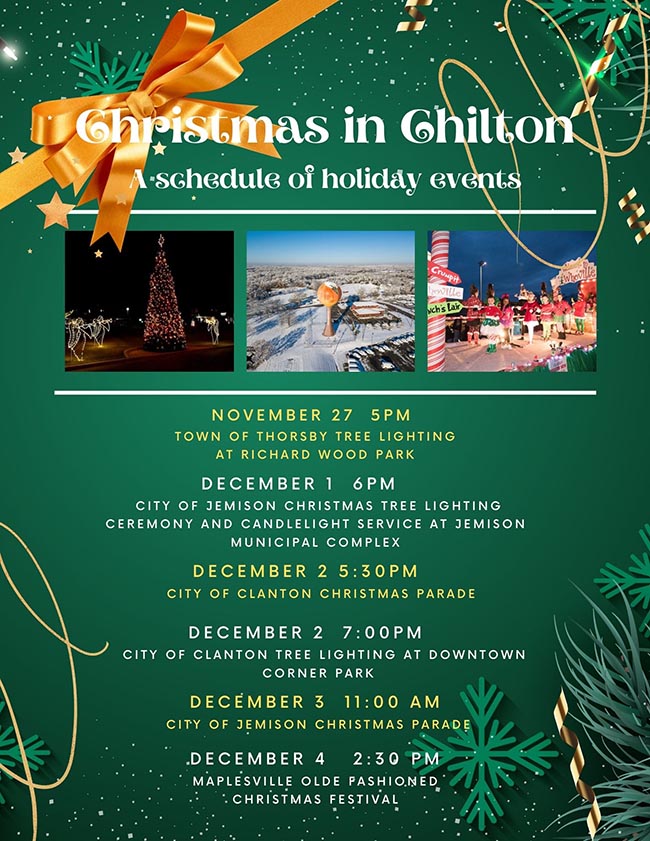 Queens Host
Christmas Event
The Thorsby Swedish Festival Queens will host a Christmas event on Tuesday, December 6, at 6:00 p.m. at Apple and Lo Boutique in Clanton. There will be a special reading by local author Hannah Wilson, along with snacks and a visit with Santa. Everyone is invited to attend.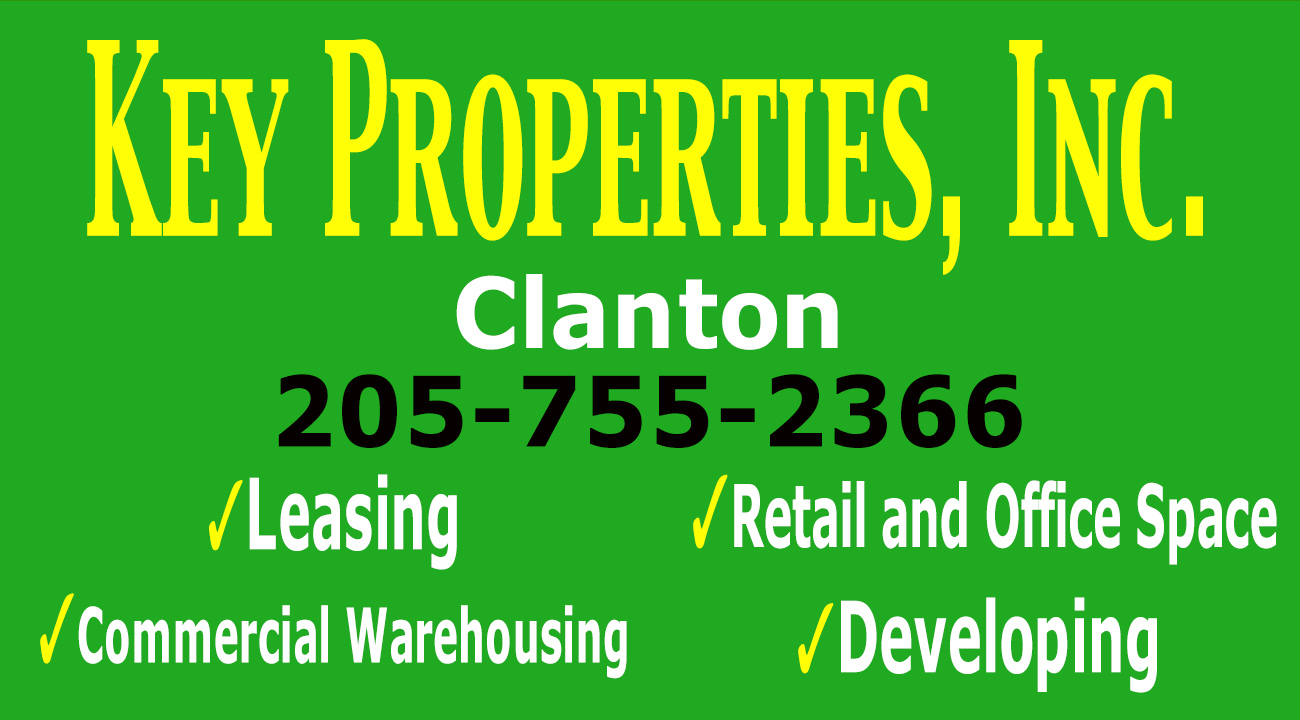 Christmas In
The Park
At Thorsby
The Town of Thorsby is sponsoring Christmas In The Park from November 27 through January 5. During that time, decorated Christmas trees will line the trail throughout the park.
The Mayor and council will host a Tree Lighting on Sunday, November 27, at 5:00 p.m. at Richard Wood Park.
Everyone is invited to attend.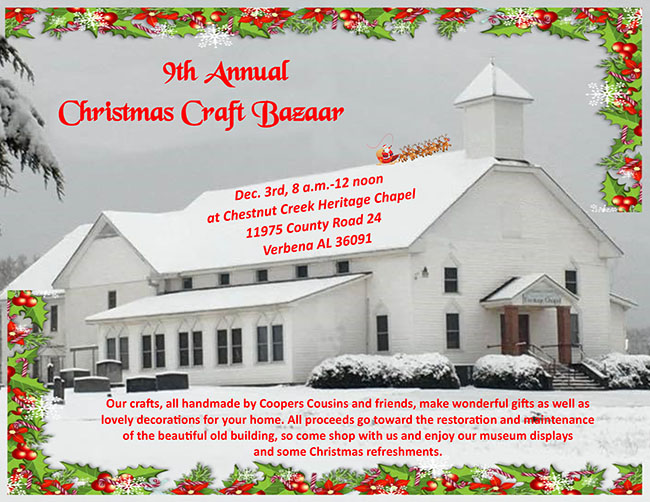 Christmas Event
In Maplesville
The Maplesville Olde-Fashioned Christmas event will be Sunday, December 4, from 2:30 until 5:30 p.m. on Main Street. There will be fair rides, free food, carriage rides, booths, bounce houses, games, Santa and more. There will be a trail of trees and photo areas for you to take pictures.
Store fronts along the sidewalk are invited to decorate their windows with a Christmas theme by November 27. The pictures will be posted on social media so citizens can vote. The winner will be announced at the festival.
is invited to attend this family fun-filled event.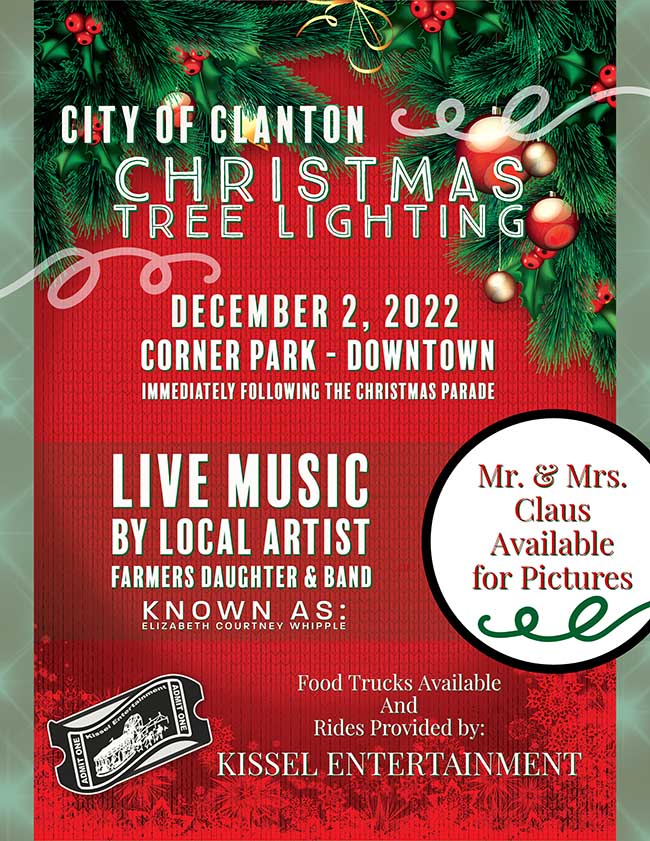 ELECTION RESULTS
For State Representative
Van Smith 12,324
Doug Ward 930
For Superintendent Of Education
Corey Clements 9,616
Ron Pinson 1,883
Clements, Smith
Win Tuesday
Voters of Chilton County gave a resounding "yes" to Corey Clements' campaign to be Superintendent Of Education on Tuesday, November 8. Clements soundly defeated his opponent, Ron Pinson, 9,616 to 1,883.
State Representative Van Smith defeated his opponent, Doug Ward, 8,960 to 643 in Chilton County. His total for Chilton and Autauga counties combined was 12,324 to 930.
Elected without opposition were: John Shearon, Sheriff; J. Aaron Ellison, Coroner; C. J. Robinson, District Attorney; Joy Pace Booth, Circuit Judge, Place 2; Amanda Baxley, Circuit Judge, Place 3; and Chris Speaks, District Court Judge. Amendment number 6 failed and Chilton County voters said "yes" to all the others.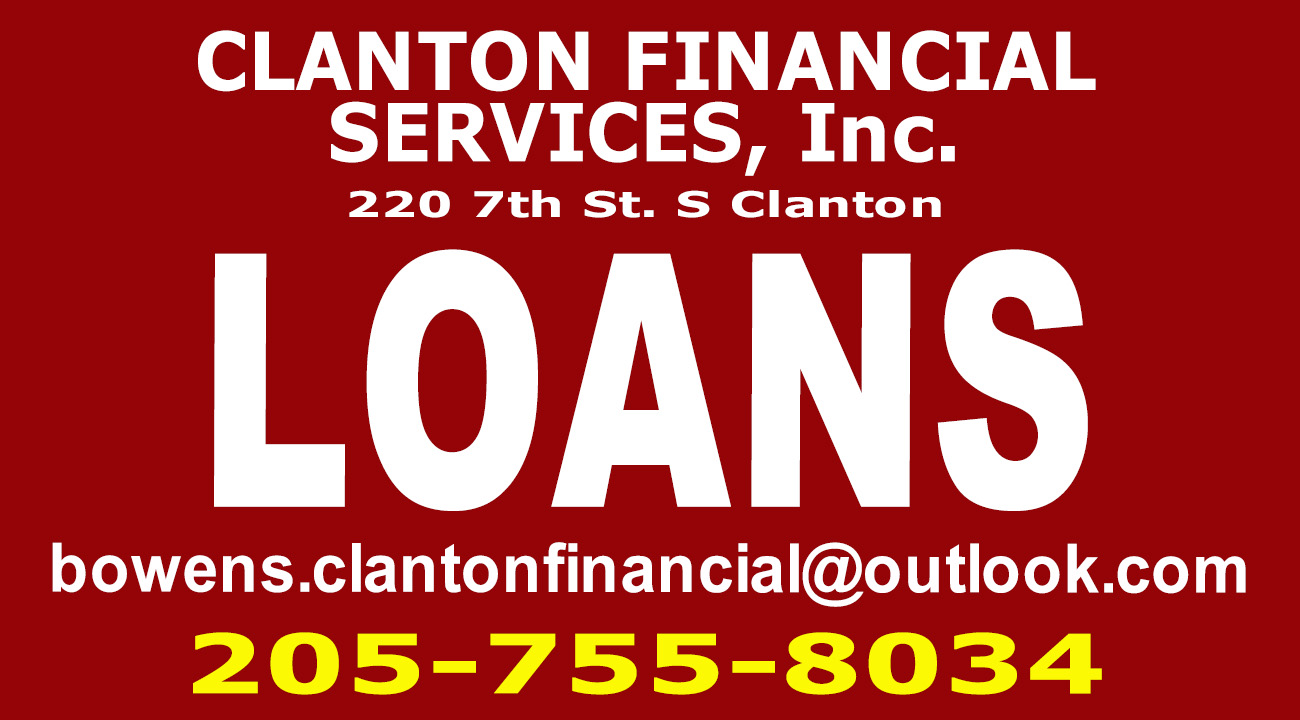 Sponsor A Child
For Christmas
The Chilton County Department of Human Resources has begun the annual outreach for Christmas sponsors for foster children in the county. Currently there are 129 foster children in care. These are not all the same children as last year; 76 children found permanency by being able to return home or to relatives. Fourteen foster children were adopted by Chilton County foster families last year.
You can help with the Christmas Wishes Program in several ways; sponsor the wishes of a specific child or children; provide gift cards to popular stores, especially good for teens; or make a financial donation to the agency and they will shop for you.
To sponsor a child, email or call Leigh.boddie@dhr.alabama.gov or call 205-258-4914. To make a financial donation, make checks payable to the Chilton County Foster Children's Fund and mail to P.O. Box 1699 or drop your donation by the office at 324 Health Center Drive. Donations will only be used for the needs of foster children.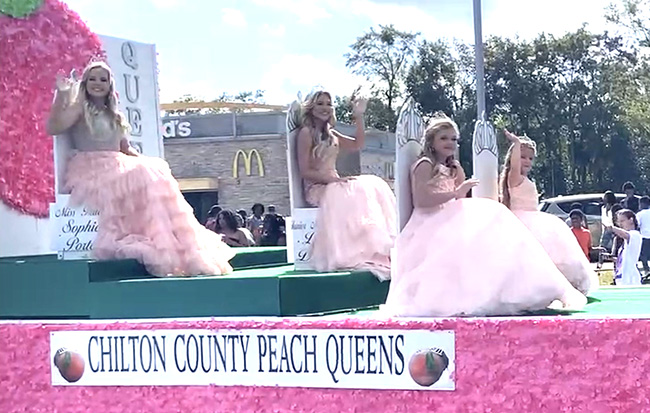 The Chilton County Peach Queens were in Dothan Saturday, November 12 for the annual Peanut Festival Parade. Lilly Maddox is the Little Miss, Lydia Payton, Young Miss, Lexie Deavers, Junior Miss and Sophie Porter, Miss.
Story Time With
Santa At Library
The Chilton/Clanton Public Library will offer the following events during the month of December.
Thursday, December 1, the library will have ornaments available to assemble for different age groups between 3:30 until 5:30 p.m. for an afternoon of family fun. Monday, December 5 will be photos and story session with Santa from 4:00 until 6:00 p.m. Thursday, December 15, will be do it yourself gingerbread houses with the family. This activity will be open from 3:30 until 5:30 p.m. and is available for all ages.
From December 1 through December 15, your child will have the opportunity to write a letter to Santa and drop it off at the North Pole Post Office in the library.
Verbena Man
Sentenced To
50 Months
A Chilton County man has been sentenced to 50 months in prison for being a felon in possession of a firearm following a shootout.
On Tuesday, November 8, 2022, Paul David Chapman, 50, from Verbena, was sentenced to 50 months in prison for being a felon in possession of a firearm, announced United States Attorney Sandra J. Stewart. Following his prison sentence, Chapman will be on supervised release for three years. There is no parole in the federal system.
According to court records, around 10:44 p.m. on October 9, 2019, the Chilton County Sheriff's Office went to a residence in Verbena after receiving multiple 911 calls, including one from Chapman, that shots had been fired. When deputies arrived, they found Chapman sitting on a couch inside the house with a gunshot wound. A handgun was next to Chapman on the couch. Chapman stated that he had exchanged gunfire with another individual after the two argued over Chapman's dog being struck and killed by a car. Chapman was taken from the residence for medical treatment. After searching the area, investigators discovered Chapman's wife deceased in the front yard. She had been hit by a stray round during the exchange of gunfire. Investigators also found an additional firearm in the residence. Chapman has previous felony convictions and is prohibited from possessing firearms.
This case was investigated by the Chilton County Sheriff's Office and the Bureau of Alcohol, Tobacco, Firearms and Explosives, with assistance from the Alabama Department of Forensic Sciences. Assistant United States Attorney Brandon W. Bates prosecuted the case.
Fall Decorating
Winners Named
The Chilton Chamber held a Fall Decorating Contest for county businesses. Citizens could vote on social media and the business receiving the most votes was declared the winner.
Garrison Farm & Home Center won from the Town of Thorsby; Olde Town Scoops and Boutique won from the City of Jemison; Cahaba Medical Care won from the Town of Maplesville; and First Bank of Alabama won from the City of Clanton.
The Chamber has announced they will host another contest for Christmas decorating with details coming soon.
Child Dies In
Traffic Accident
A two-vehicle crash that occurred at approximately 6:40 p.m. Sunday, October 23, has claimed the life of an Alabaster juvenile. The 8-year-old, who was a passenger in the 2010 Chevrolet Silverado pickup, was critically injured when the Silverado struck a 2018 Mitsubishi Mirage in the rear.
The Mirage was driven by Barry M. Kidd, 38, of Waterloo. The 8-year-old was transported to a local hospital, where the child succumbed to injuries and was pronounced deceased.
The driver of the Silverado, Reginald E. Jones, 33, of Alabaster was injured and transported to UAB Hospital in Birmingham.
A 16-year-old, also a passenger in the Silverado, was injured and transported to an area hospital for medical treatment. The crash occurred on Interstate 65 near the 203 mile marker, approximately one mile south of Clanton, in Chilton County.
Nothing further is available as Troopers with the Alabama Law Enforcement Agency's (ALEA) Highway Patrol Division continue to investigate.
Julie Harrison talks with Miss Chilton County Queens at the "Boo At The Zoo" painting event last Saturday. It was sponsored by various Queen groups to raise money for Christmas gifts for foster children. Mrs. Harrison, a local art teacher, led the class.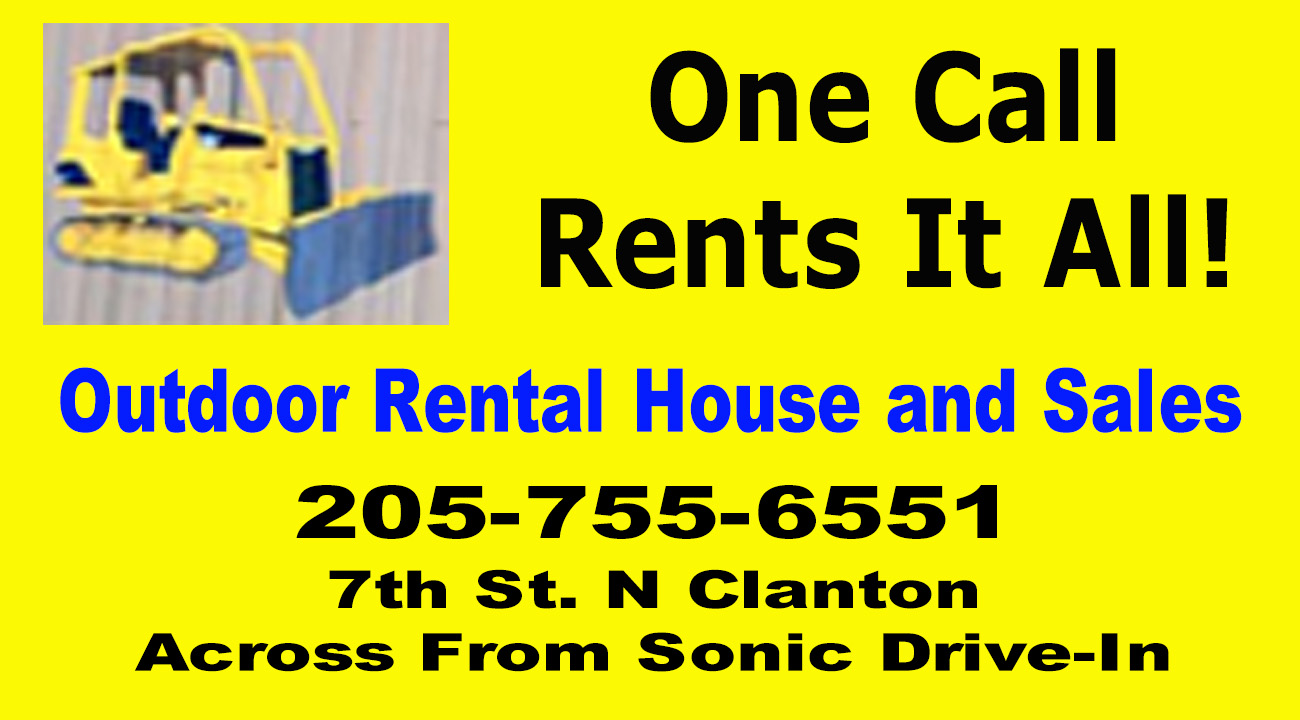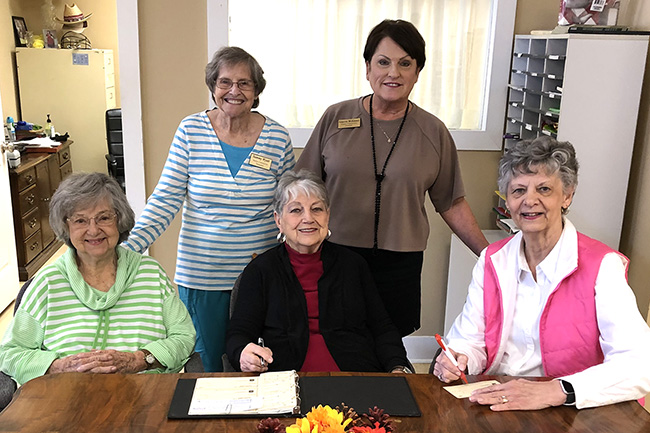 The Chilton County Travel Club made a generous donation to Chilton County Senior Connection recently. Seated, left to right: Hera Scruggs, Catherine Connell, and Linda Hand, Travel Club members. Standing, left, Sammy Wyatt and Vanessa McKinney, of Senior Connection.
Taste Of Chilton
Winners Announced
The Taste Of Chilton was held Monday night. Voted as the winners in three categories were: Sweet – GeMa's Cupcakes; Savory – Heard's BBQ; and Best Overall – Country Lane Too Catering.

The Taste Of Chilton was held Monday night. Voted as the winner in the Sweet category was GeMa's Cupcakes. Left to right: Martha Ware, Lenard Rogers and Lillian Rogers.
The Best Overall award went to Country Lane Too Catering. Left to right: Elizabeth Mims, Debra Jones, Leisa Minor, Barbara Minor, and Brenda Wilson.
The Savory award went to Heard's BBQ. Left to right: Sharika Heard, Roman Heard, Owners, and Tina Morrow.
You Could
Help With A
Winter Coat
There is a Winter Coat Drive being held. The drop-off location is the Chilton/Clanton Public Library, 100 First Avenue in Clanton. For any further information you may call 205-479-2603.
Clanton Fire
Department
Incidents
October 26, 2022

900 Block Cobblestone Circle-Chest Pain
900 Block Frances Circle-Public Assist
100 Block Park Drive North-General Illness
800 Block 8th Street North-General Illness
1600 Block Kincheon Road-Fall
100 Block 2nd Avenue South-Fall
200 Block 15th Street North-Unresponsive
October 27, 2022
100 Block Randall Circle-Stroke
1600 Block 4th Avenue North-Fire Alarm
1000 Block Cobblestone Circle-Police Matter
1200 Block 7th Street South-Extremity Injury
500 Block Jackson Street-Unresponsive
October 28, 2022
300 Block City Street-General Illness
2200 Block 7th Street South-General Illness
1700 Block Glendale Drive-Bleeding
100 Block 14th Street South-Difficulty Breathing
1100 Block Duren Road-General Illness
200 Block Mitzou Drive-Abdominal Pain
100 Block Park Drive North-Bleeding Non-Traumatic
October 29, 2022
800 Block Furniture Avenue-Stroke
1600 Block Trilliam Lane-Police Matter
3000 Block 7th Street North-Police Matter
October 30, 2022
400 Block Kendall Estates Place-Blood Pressure Check
200 Block 15th Street North-Fire Alarm
100 Bloc Wade Street-Difficulty Breathing
100 Block 2nd Avenue North-General Illness
October 31, 2022
200 Block Lilla Avenue-Public Assist
100 Block Coosa Street-Difficulty Breathing
900 Block 7th Street South-Stroke
Battle Circle and Searcy Lane-Smoke Investigation
300 Block Medical Center Drive-Difficulty Breathing
2800 Block 7th Street South-Fall
800 Block Studdard Drive-Fall
100 Block Camille Circle-Difficulty Breathing