Welcome To Chilton County News in Clanton, Alabama, located in the center of the State of Alabama in the Heart Of Dixie.
This web site contains local Peach Country information, news and happenings about the people of
Clanton, Jemison, Thorsby, Maplesville, Isabella, Verbena and Cooper in Chilton County, Alabama.
"Chilton County's Best-Read Weekly Community Newspaper"
RECENT NEWS FROM AROUND CHILTON COUNTY!

Peach Festival
Art Show
Applications for the annual Roy Wood Peach Festival Art Show are now available at River Bank & Trust in downtown Clanton. The competition gives all interested Chilton County artists the opportunity to let their works be seen by their friends and people interested in art.
To enter, the subject matter may be pertaining to the peach industry or a subject of your choosing. The painting must have been competed within the last two years and not have been entered in the show previously. It must be an original and not a copy.
Art will be received at the bank on Wednesday, June 22 from 12:00 noon until 2:00 p.m. All instructions are available on the entry form. Each artist may enter two works. Prizes will be awarded in both the Junior Division and Senior Division.
The exhibit will display in the bank lobby from Thursday, June 23 through Wednesday, June 29 for everyone to go by and view.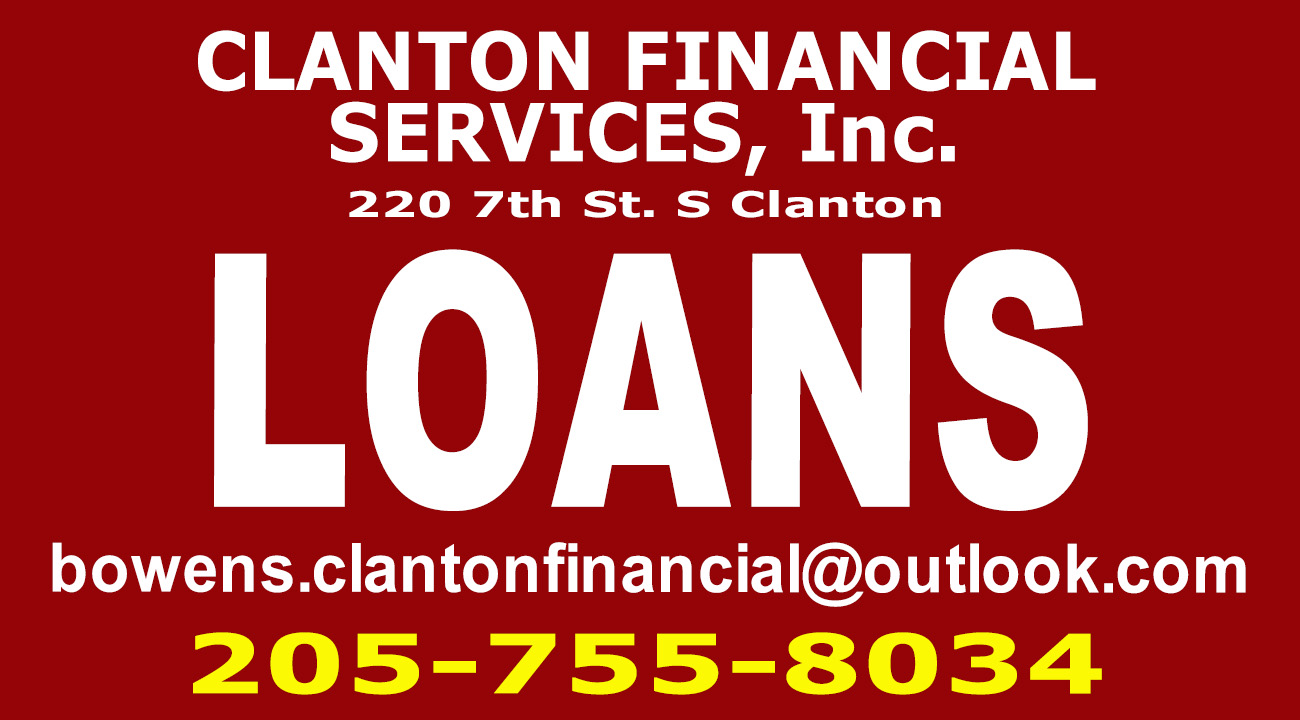 Pancake Breakfast
West End Baptist Church, Clanton is hosting a Missions Pancake Breakfast on Saturday, June 4, 2022 from 7:00-10:00 a.m.
The event will be held in the Family Center. Our address is 2005 2nd Avenue North, Clanton 35045.
Plates will be $5.00 each and may be eaten at the Family Center or boxed for takeout. A Bake Sale will also be held during the breakfast.
All proceeds will go to church sponsored mission projects.
Vacation Bible School
Lime Springs Church will hold Vacation Bible School June 3 through June 5 for all Pre-K through sixth graders. The theme will be Hay Day and will focus on "growing in friendship with Jesus Christ."
Times will be: 6:00 until 8:00 p.m. on June 3; 10:00 a.m. until 12:30 p.m. on June 4 with lunch provided; and Commencement on June 5 at 11:00 a.m. For more information or to register your child, call 205-351-1265.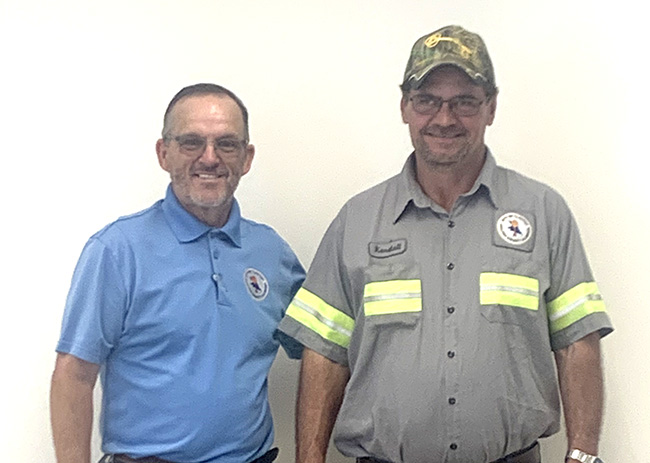 Clanton City employees Dale Collins, left, and Kendall Varden are pictured at a retirement reception on Wednesday, May 18. Varden was honored by Mayor Jeff Mims with a plaque stating the city's appreciation for his 26 years of hard work and dedicated service.
Collins, Supervisor of the Clanton Sanitation Department, stated that Varden began his career with the city working on the back of a garbage truck in the rain, sleet, snow, cold and hot days, even holidays. "He later took his CDL test and became a Class B Driver. This past year, he took his Class A test and moved up to a Class A CDL Driver."
"We are proud of Kendall and his accomplishments," Collins said. "He is a valued employee and we wish him well in his retirement."
Peach Run
June 18
The 2022 Cornerstone Peach Run will be Saturday, June 18. The 5K and 10K will begin at 7:00 a.m. Registration fee is $35.00 (on or before June 1) and $40.00 after June 1. There will be age division winners. Male and female winners will be awarded cash prizes.
For more information contact Lesia Childress at 205-280-6450. Register on-line at runsignup.com or at Cornerstone Fitness located on Highway 145 in Clanton.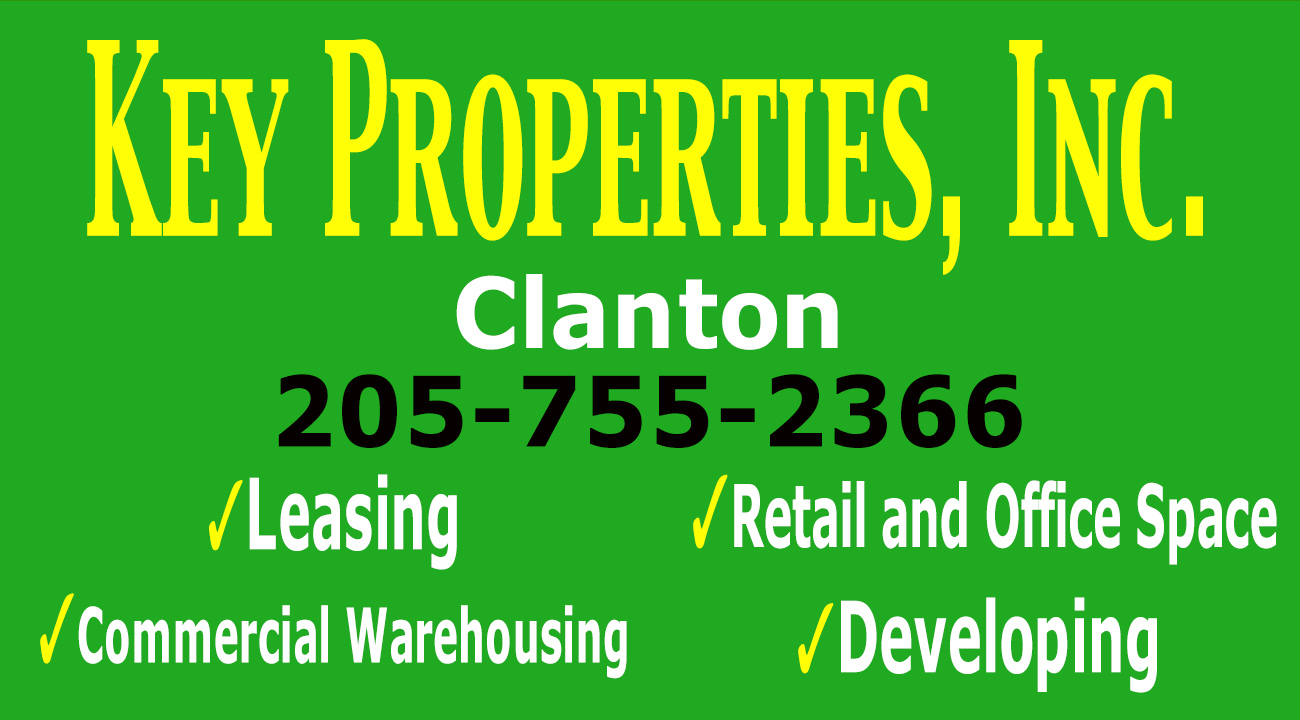 Peach Parade Entry
Form Must Be
Submitted By June 11
The Chilton County Peach Parade will be Saturday, June 25, beginning at 9:30 a.m. Entries must be submitted no later than June 11. Last minute entries may be accepted if time and space permit. Lineup will begin at 8:00 a.m.
All entries should have some type of peach theme decoration to correspond with the peach festival activities. Emergency vehicles are exempt from this rule. Contact Kevin Mazingo, Parade Chairman, at 205-417-5097 for more information.
Entry forms may be downloaded at www.ChiltonPeachFest.com.
Clanton Church Will
Host God's World
Beginning June 14
Clanton First United Methodist Church will host God's World beginning June 14. Other dates include: June 16, 21, 23, 28 and 30. Times are from 9:00 through 11:30 a.m. and there is no cost for class days. There will be a charge for field trips.
On June 15, the children will go to Alabama Nature Center at Lanark in Millbrook. They will leave the church at 8:00 a.m. and return by 3:00 p.m. Cost is $15.00 per child and chaperones may attend free. Children will need clothes for a creek hike and good water shoes. They will need dry clothes for afterward, a sack lunch and gift shop money. Bus space will be limited and parent drivers will be needed. RSVP by June 7.
June 22, there will be a field trip to a local beekeeper and this trip is free. Bring a sack lunch and money for ice cream. They will meet at the church at 8:30 a.m.
June 29, there will be a trip to Alabama Wildlife Center at Oak Mountain in Pelham. Cost is $5.00 per person and children will need a sack lunch and gift shop money. Parent drivers are needed and RSVP by June 14. Everyone will meet at the church at 8:30 a.m.
God's World is a summer educational program for children aged preschool (3 and up, must be potty trained) through sixth grade. To register, email Christi Mitchell, children@clantonfumc.org by June 6. Include your child's name, age, grade, any allergies or special medical conditions and your contract information.

The Clanton Lions Club sponsored the 2022 Chilton County Senior Baseball Showcase last Friday, May 13, at 7:00 p.m. at Jack Hayes Field in Clanton. All senior baseball players from all six high schools in Chilton County were invited to participate.

Front row, left to right: Alan Childress, Lions Club; Chilton County High Coach Ryan Ellison, Kenan Swanson, Genaro Aquino, Caeden Forbach, Camden Cummings, Chandler Stephens, Hayden Robinson, Katon Elijah, Eian Headley, Sam Smith, Drew Edwards, Brantley Hood, Chilton County High assistant Coach Christian Coston, Isabella Coach Dustin Green, Jason Griffin, Chilton County Superintendent Of Education.
Back row, left to right: Glenn McGriff, Jemison Coach Jason Easterling, Maplesville Coach Justin Little, Verbena Coach Scott Doss, J. J. Barber, Noah Littlejohn, Jesse Prado, Luke Davis, Donovin Edwards , Cole Gray, Braden Tillery , Cole Tignor, Juan Flores, Bryant Robinson, Crawford Easterling, Braxden Giles, Leighton Coppedge, Kohen Davis, Skyler Langford, Andrew Edwards, Thorsby Coach Drew Wood, Britt Culpepper, Lions Club and Kenyon Easterling, Lions Club.

Primary Election
Tuesday, May 24

In accordance with the Code of Alabama, Title §17-9-5, Chilton County Probate Judge Jason L. Calhoun announces that there will be an Alabama Statewide Primary Election on Tuesday, May 24, 2022.
The polls will be open at 7:00 a.m. and will close at 7:00 p.m.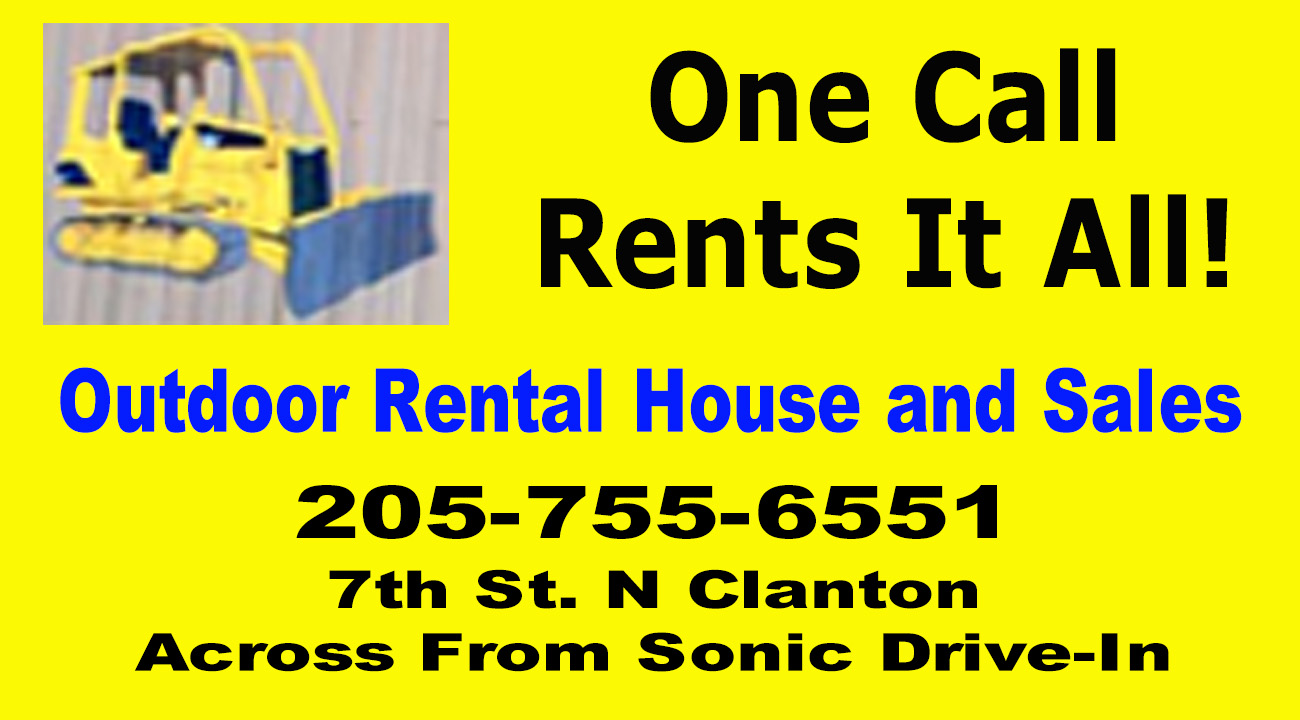 Officers
Investigate
Death
On Thursday May 5, The Chilton County Sheriff's Office responded to a wooded area east of Alabama Highway 145 to investigate a suspicious incident. During that investigation, officers located what appeared to be a hand dug grave containing a body. Investigators worked throughout Thursday night and into Friday processing the scene and recovering the body. Since that time the body has been transported by the Coroner's Office to the Alabama Department of Forensic Sciences for examination and autopsy which was completed on May 10. The manner of death has been determined to be homicide.
Investigators are asking for the public's help in order to identify the victim. The condition of the victim prohibits visual identification. However, based on forensic examination, the victim is believed to be a white male, late 20's to early 30's, 5'8" to 5'9" in height, and average build with dark hair. The victim did have at least one tattoo, which was on the inside on the right forearm, that is blue with black outline, and is possibly a tropical fish.
Anyone having any information about this investigation or the possible identity of the victim is asked to contact Sgt. Jennifer Bland at (205) 755-4698 or jennifer.bland@chiltoncountyso.org. You can also provide information anonymously using the Crime Tip function on the Sheriff's Office website at chiltoncountyso.org or the Chilton County Sheriff's Office App.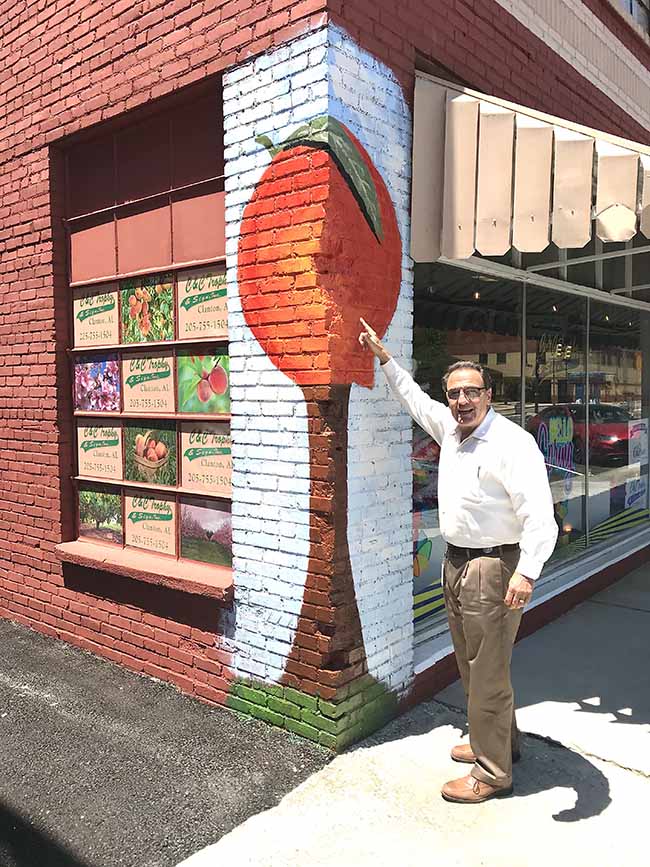 Glenn McGriff, Chilton County Circuit Clerk, is pictured with a new mural painted on the corner of C & C Trophy in downtown Clanton. McGriff is a member of the Clanton Lions Club which sponsors the annual Peach Festival. He is also the Chairman of the Peach Auction which will be held at Clanton City Park on Saturday, June 25.
Did someone take a bite out of that peach?
Police Try New
Camera System
Three law enforcement agencies have been selected as trial entities for an advance body camera system. The Clanton Police Department, Chilton County Sheriff's Department and the 19th Judicial Circuit District Attorney's Office have been selected to test out the cameras during the final phase of development.
The body cameras allow video to be taken in multiple directions, not just the direction in which the officer is facing. The system is made up of four cameras worn in the shoulder areas of their bodies. All video is saved to a card and can also be used live. A total of four cameras will be used by officers in order to give feedback to the developers before the cameras become available nationwide.
Clanton Fire
Department
Incidents
May 4, 2022
800 Block 15th Avenue North-Difficulty Breathing
300 Block Arby Drive-Unresponsive
300 Block City Street-General Illness
1100 Block Duren Road-General Illness
1600 Block 7th Street South-Seizure
400 Block Kendall Estates Place-Public Assist
500 Block County Road 274-Cardiac Arrest
800 Block Temple Road-Fall
1000 Block 2nd Avenue South-Medical Alarm
400 Block Kendall Estates Place-Public Assist
100 Block Cedarbrook Drive-Unresponsive
600 Block Trilliam Lane-Blood Pressure Check
900 Block Frances Circle-Public Assist
600 Block Pineview Road-Public Assist
May 5, 2022
I65 208 Mile Marker North Bound-Motor Vehicle Accident
900 Block Frances Circle-Public Assist
2100 Block 7th Street South-Chest Pain
1000 Block 2nd Avenue South-Medical Alarm
May 6, 2022
300 Block City Street-General Illness
100 Block Morris Avenue-Chest Pain
2000 Block Lay Dam Road-Fire Alarm
300 Block Smith Street-Blood Pressure Check
May 7, 2022
1600 Block 7th Street South-Fall
100 Block Lilly Street-Fire Alarm
2300 Block 4th Avenue North-Fall
May 8, 2022
200 Block 2nd Avenue South-Abdominal Pain
100 Block Cobblestone Drive-Police Matter
900 Block 8th Street North-Altered Mental Status
800 Block Scott Drive-Fall
1100 Block 7th Street North-Police Matter
May 9, 2022
1600 Block Old Thorsby Road-General Illness
Lay Dam Road and Bell Lane Road-Motor Vehicle Accident
100 Block Arthur Drive-General Illness
500 Block Cobblestone Circle-Public Assist
100 Block Arthur Drive-General Illness
I65 212 Exit North Bound-Motor Vehicle Accident
May 10, 2022
200 Block 7th Street South-Public Assist
900 Block Lake Mitchell Road-General Illness
20 Block Park Drive South-Public Assist
300 Block Hinkle Road-Altered Mental Status
3000 Block 7th Street North-Difficulty Breathing
500 Block 7th Street South-Motor Vehicle Accident
1200 Block Lay Dam Road-Motor Vehicle Accident
1400 Block 7th Street South-Chest Pain
1400 Block Woodfin Lane-Fall
700 Block Green Tree Trailer Park-Diabetic Emergency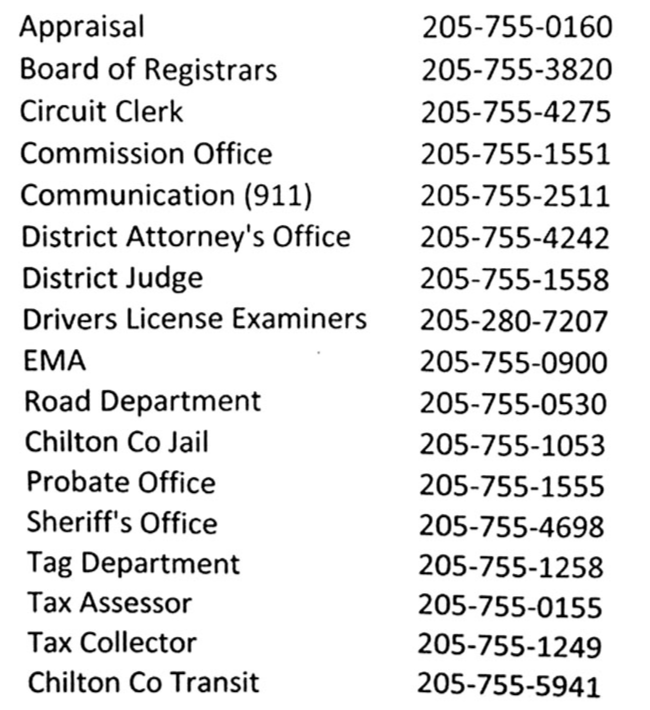 Chilton County Peach
Festival Began In 1947
Read some of the history here: