Welcome To Chilton County News in Clanton, Alabama, located in the center of the State of Alabama in the Heart Of Dixie.
This web site contains local Peach Country information, news and happenings about the people of
Clanton, Jemison, Thorsby, Maplesville, Isabella, Verbena and Cooper in Chilton County, Alabama.
"Chilton County's Best-Read Weekly Community Newspaper"
RECENT NEWS FROM
AROUND CHILTON COUNTY!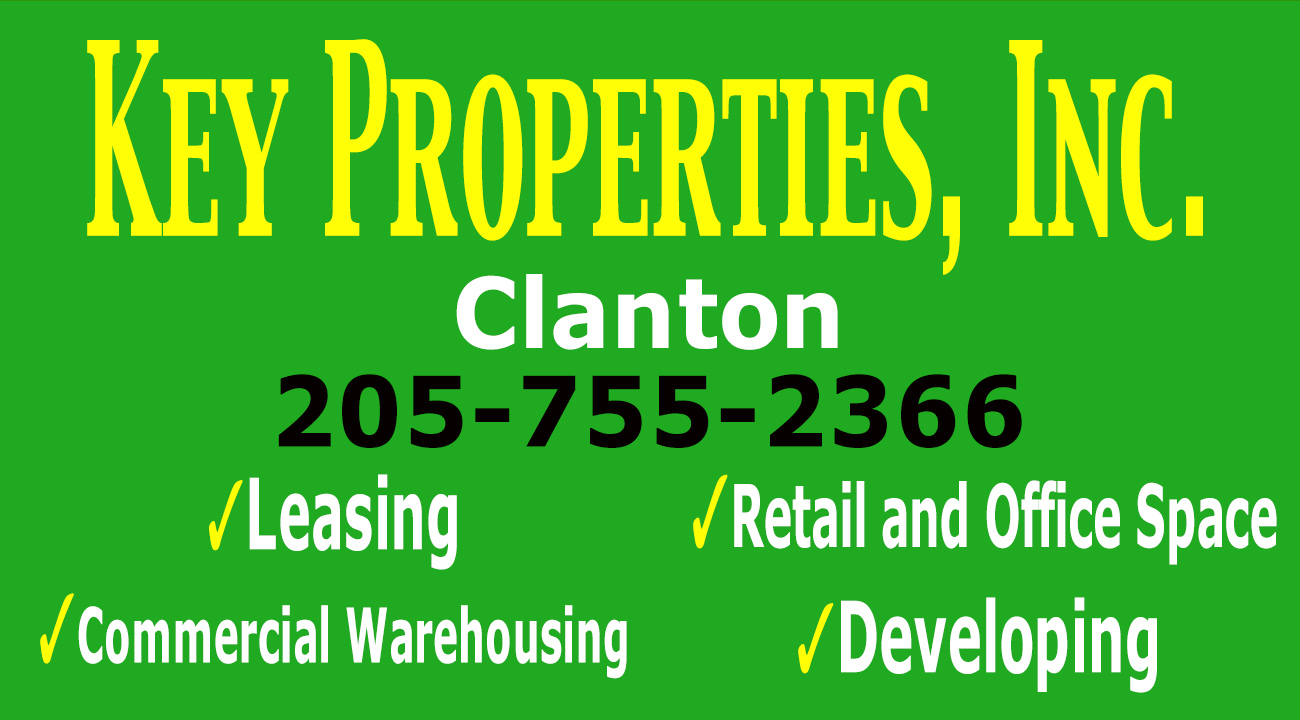 CANCELED!
Clanton's Tree Lighting and Parade, Jemison's Tree Lighting and Parade, Thorsby's Parade and Maplesville's Old Fashioned Christmas have all been canceled for this weekend due to the threat of inclement weather.
The events have been rescheduled for next weekend, December 8, 9 and 10.
Two Local Churches Join
Their Congregations In
Lessons And Carols Program
For almost twenty years, the east side of Clanton has enjoyed the traditional service of Lessons And Carols.
This year, Walnut Creek Methodist and Trinity Episcopal churches join their congregations in word and song on Sunday, December 3, at 11:00 a.m. at Walnut Creek church, 314 County Road 458, in Clanton.
This service includes scripture readings and song leading up to the Birth of Christ during this season. This service is based on the old English service started in England long ago.
Chris Speaks is Pastor of Walnut Creek and Mark Likos is Pastor of Trinity Episcopal.
Malissia Jackson is the music director for Walnut Creek and is directing the service, assisted by Joan McGriff and Walter Hayden as musicians and a choir composed of members of both churches and other friends of the community.
Everyone is welcome to this beginning of Advent, and prelude to Christmas.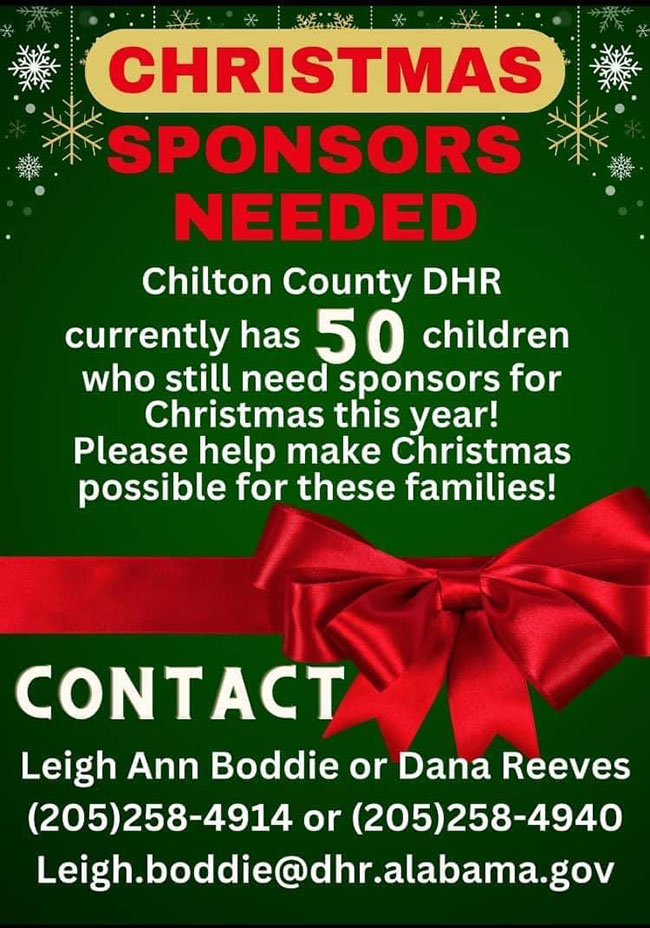 Register Now
For Extension Office
Holiday Workshops
The Chilton County Extension Office is offering two upcoming workshops. The first will be a holiday wreath making workshop on Thursday, November 30, from 5:30 until 7:30 p.m. The cost is $20.00 and participants will learn to make their own wreath using natural items that can be found anywhere in Alabama's forests. All materials will be provided.
The second workshop will be Thursday, December 7, at the Gathering located at 106 Chilton Place in Clanton.
Two local businesses will be highlighted in a fashion show. There will be food demonstrations and a hands-on decorative project. Entry is a canned food item.
Call 205-280-6268 with any questions you might have and to register for either or both events.
Emergency Assistance
Center Holiday Sale
Will Be December 8
The Chilton County Emergency Assistance Center will hold its Holiday Sale on Friday, December 8.
All proceeds that day will go to he United Way of Central Alabama, Inc., which supports the Center.
They accept non-perishable food items, used clothing, white goods, furniture, appliances and monetary donations.
The Center is located on Enterprise Road in Clanton.
THE 2023 CLUB CHAMPIONSHIP TOOK place at the Clanton Country Club over the weekend of October 28 and 29. Following are the winners in each category: Danny Robinson, Senior Club Champion; Sammy Cox, Super Senior Club Champion; Steven Smitherman, Club Champion; and James Greer, Net Club Champion.
Commission
Selects Chairman
By Becky Tucker, News Reporter
The Chilton County Commission met on Tuesday night, October 24. Chairman Jimmie Hardee brought before the commissioners they would be selecting a new Chairman as his term was expiring. A new Chairman needed to be nominated and voted on at the meeting. "It has been an honor to be your Chairman this last two years," he said. "I will tell you I have enjoyed it; it has been stressful at times. I will not be seeking the election as Chairman this upcoming year."
Randell Kelley, the current Vice-Chairman, was nominated by Hardee to serve the next year as Chairman. He was approved by his fellow commissioners and will preside beginning at the next meeting. "Thank you for putting your confidence in me," Kelley said. "I will work hard, diligently, with your help." Darrell Bone was approved as Vice-Chairman.
Commissioner Matthew Mims asked for approval of a resolution to spend $13,000.00 for phase one at Minooka Park and an archeological study to be done on property that could be purchased in the future. The resolution was approved.
Discussion was held to hire a CPA firm to complete the 2022 audit. Commissioners want to be able to sell bonds before the end of the year to fund a new courthouse. Commissioner Joseph Parnell stated he felt there could be a better bond rating with the up-to-date 2022 financial audit. A resolution was passed allowing the Chairman and Sylvia Singleton, County Administrator, to find someone who can do the audit quickly and is affordable.
Sales and use tax abatements were given to Heard's Restaurant, who will be locating in Clanton in the near future. The abatement was approved as part of the consent agenda and the amount was not discussed in the meeting. Approval was also given for an exemption to abate sales and use tax related to an equipment acquisition by the Alabama Mineral Springs Water Project.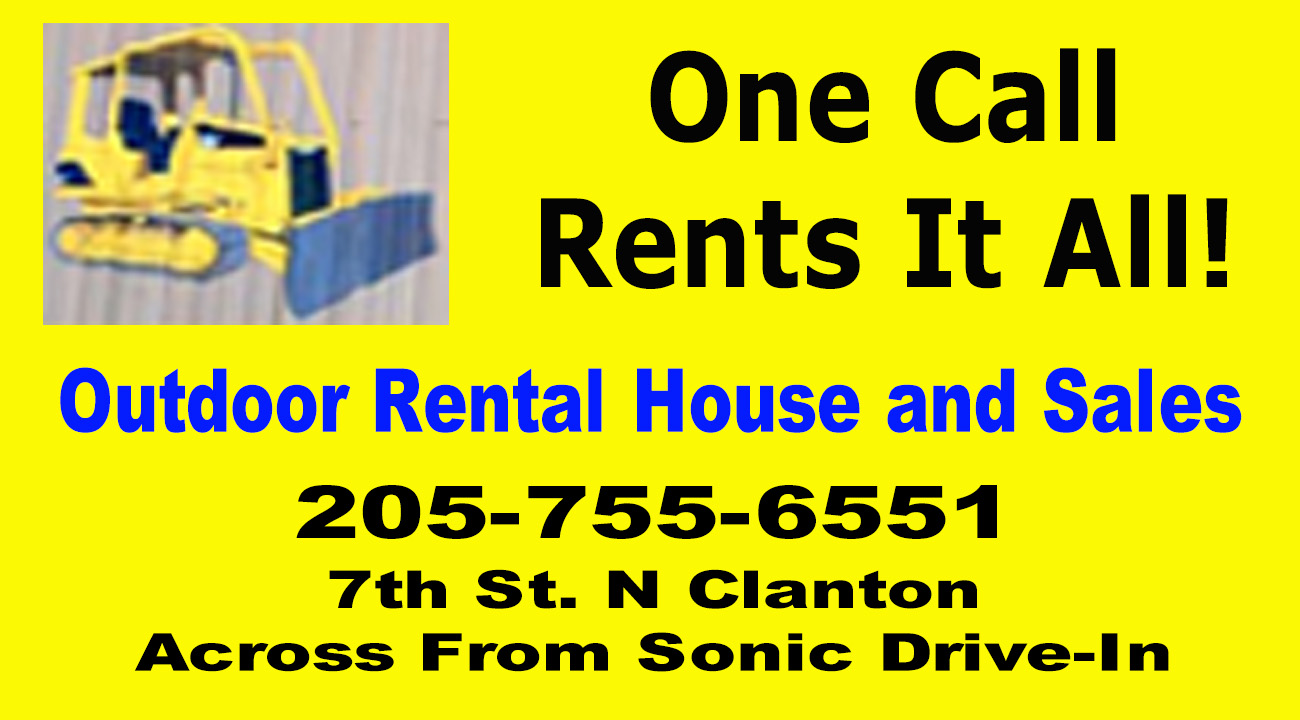 Thorsby Christmas
In The Park And Parade
Thorsby's annual Christmas Parade will be Saturday, December 2, at 9:00 a.m.
Jemison Tree
Lighting And Parade
The City of Jemison Christmas Tree Lighting will be Thursday, November 30, from 5:00 until 8:00 p.m. There will be vendors in the auditorium to help with your holiday shopping. A hot cocoa bar will be provided by the city. Live entertainment will be held, food trucks will be there, and Santa for photographs. The tree will be lit at 7:00 p.m. in front of City Hall. Everyone is invited to attend this annual event.
The annual Christmas Parade will be Saturday, December 2, at 11:00 a.m.
Clanton Parade
And Tree Lighting
The Clanton Christmas Parade will be held Friday night, December 1, beginning at 5:00 p.m. in downtown. Immediately following the parade, the Tree Lighting will be held at Corner Park. There will be live music by Adam Hambrick, photos with the Santa, food trucks, and carnival rides for the children. The Grinch will also be there for photos.
Maplesville
Christmas Event
Maplesville's Old Fashioned Christmas will be Sunday, December 3, from 2:30 until 5:30 p.m. The event is totally free. Churches, business owners and kind-hearted individuals may set-up and hand out free items. No vendors will be accepted at the event.
Mark your calendars and this family oriented event. There will be a Trail of Trees, music, fair rides, carriage rides, pony rides, food, kids area with inflatables, and Santa will be there too.
There will be a variety of photo opportunities. The event will be downtown.
Clanton Fire
Department
Incidents
October 22, 2023

900 Block Studdard Drive-Public Assist
October 23, 2023
300 Block Smith Street-Seizure
200 Block Health Center Drive-Chest Pain
100 Block Hinkle Road-Structure Fire
800 Block Golf Drive-Unresponsive
300 Block Parrish Avenue-Public Assist
200 Block Willis Circle-Abdominal Pain
1300 Block 4th Avenue South-Syncope
1300 Block Enterprise Road-Altered Mental Status
October 24, 2023
400 Block 1st Street South-Fire Alarm
1300 Block Ashley Court-Childbirth
500 Block Jackson Street-General Illness
2100 Block 4th Avenue North-Syncope
800 Block Golf Drive-Public Assist
2000 Block Yellowleaf Road-General Illness
200 Block 7th Street South-General Illness
1400 Block 2nd Avenue South-Syncope
October 25, 2023
300 Block Arby Drive-Difficulty Breathing
100 Block Lilly Street-Chest Pain
100 Block Elwyn Avenue-Fall
October 26, 2023
400 Block 5th Street North-Public Assist
700 Block Keystone Drive-Difficulty Breathing
500 Block 2nd Avenue North-Stroke
1100 Block Duren Road-Brush Fire
October 27, 2023
2600 Block Lay Dam Road-General Illness
300 Block City Street-Chest Pain
300 Block Arby Drive-Chest Pain
200 Block 8th Street North-Cardiac Arrest
900 Block 3rd Avenue South-Assault
2800 Block 7th Street North-Fall
100 Block Thompson Avenue-Unresponsive
October 28, 2023
5200 Block County Road 41-Difficulty Breathing
I65 204 Mile Marker South Bound-Motor Vehicle Accident
500 Block English Street-Unresponsive
400 Block Cobblestone Circle-Fall
1200 Block 5th Avenue North-Public Assist
I65 211 Mile Marker North Bound-Motor Vehicle Accident
200 Block Willis Circle-Difficulty Breathing
October 29, 2023
400 Block Thrash Road-Public Assist
300 Block 1st Avenue-Fall
300 Block 10th Street-Altered Mental Status
100 Block 14th Street-Unresponsive
400 Block Airport Road-Difficulty Breathing
October 30, 2023
300 Block City Street-Chest Pain
2200 Block 7th Street South-Unresponsive
400 Block 17th Street North-Overdose
100 Block Arthur Drive-Difficulty Breathing
100 Block Medical Center Drive-Fall
800 Block Golf Drive-Fall
200 Block Health Center Drive-Fall
300 Block 3rd Avenue South-Fall
1200 Block 7th Street South-Overdose
400 Block Airport Road-Altered Mental Status
1600 Block Lay Dam Road-Bleeding Non-Traumatic
October 31, 2023
1600 Block Kincheon Road-Fall
1400 Block 7th Street South-Fall'
1300 Block Woodfin Lane-Chest Pain
1400 Block 7th Street South-Fire Alarm
900 Block 1st Avenue-General Illness
400 Block Airport Road-Altered Mental Status
1400 Block 8th Street North-Chest Pain
November 1, 2023
I65 211 Mile Marker North Bound-Motor Vehicle Accident
4100 Block Autumnwood Drive-Chest Pain
I65 206 Mile Marker South Bound-Grass Fire
1100 Block 7th Street North-Motor Vehicle Accident
1400 Block 7th Street South-Seizure
100 Block Park Drive North-General Illness
2100 Block 7th Street South-Diabetic Emergency
1300 Block Kincheon Road-Grass Fire
100 Block Lilly Street-General Illness
800 Block Golf Drive-General Illness
2000 Block Lay Dam Road-Smoke Investigation
I65 211 Mile Marker North Bound-Motor Vehicle Accident
November 2, 2023
I65 208 Mile Marker North Bound-Motor Vehicle Accident
1200 Block Coodey Road-Vehicle Fire
300 Block City Street-Blood Pressure Check
2100 Block 7th Street South-General Illness
300 Block Kendal Estates Place-General Illness
300 Block Medical Center Drive-General Illness
1300 Block Moatts Drive-Smoke Investigation
300 Block Medical Center Drive-Chest Pain
November 3, 2023
900 Block Studdard Drive-Public Assist
300 Block City Street-Chest Pain
2000 Block 7th Street South-General Illness
600 Block Clanton Marketplace-Motor Vehicle Accident
300 Block Medical Center Drive-Difficulty Breathing
1000 Block 2nd Avenue North-Seizure
1400 Block 7th Street South-Syncope
1600 Block Kincheon Road-Motor Vehicle Accident
800 Block Scott Drive-Public Assist
2000 Block 7th Street South-Fall
November 4, 2023
100 Block Park Drive North-Cardiac Arrest
800 Block Golf Drive-Public Assist
600 Block Clanton Marketplace-Stroke
November 5, 2023
I65 213 Mile Marker South Bound-Motor Vehicle Accident
2000 Block Lay Dam Road-Helicopter Landing Zone
100 Block Park Drive North-Structure Fire
4000 Block 4th Avenue North-Unresponsive
2000 Block Lay Dam Road-Chest Pain
200 Block Willis Circle-Altered Mental Status
900 Block Lake Mitchell Road-Altered Mental Status
1600 Block Moatts Drive-Brush Fire
I65 205 Mile Marker South Bound-Motor Vehicle Accident
November 6, 2023
800 Block Bradberry Lane-Abdominal Pain
I65 205 Mile Marker South Bound-Motor Vehicle Accident
2300 Block 7th Street South-Altered Mental Status
November 7, 2023
Lay Dam Road and I65-Motor Vehicle Accident
10 Block Vinson Place-Syncope
800 Block Golf Drive-Assist
300 Block City Street-Bleeding Non-Traumatic
2000 Block Lay Dam Road-Fire Alarm
1300 Block 7th Street South-Childbirth
I65 212 Exit South Bound-Motor Vehicle Accident
200 Block Thompson Avenue-Public Assist
100 Block Marie Street-Difficulty Breathing
400 Block Kendal Estates Place-General Illness
2600 Block Lay Dam Road-Altered Mental Status
20 Block 3rd Avenue South-Fire Alarm
2500 Block 7th Street South-Fire Alarm
300 Block City Street-Chest Pain